AEP IS HERE!
It's the early hours of AEP, we thought now is a good time give some advice for a successful AEP.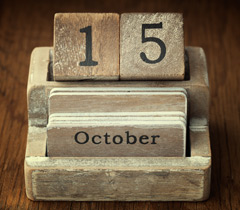 -Applications-  If your handwriting is hard to read, this can cause typos when they are entering information and make your application become pending. Take the time to write neat and don't rush through it. Now is a good time to get familiar with the applications.
-Missing info- More than half of all paper applications have 1 or more items missing or in error. Some of these items will prevent your clients from getting coverage and hurt your business. Did you know missing signatures are the #1 reason for pending applications? It's true, per UnitedHealthCare, so always make sure they are completed fully when you begin submitting business. Taking advantage of the electronic applications many carriers now offer, can eliminate the chance of having missing/incomplete information.
-PCP- a Primary Care Physician is a key and important part of any Network product. Now more than ever companies are treating PCP auto-assignment as a compliance risk and cracking down if the PCP number is not identified on products that require a PCP. If you are unsure or need help to identify a PCP number, please ask now.
-Supplies- most of the pre-order supplies are arriving and all carriers should have the gates open to order supplies now. The fastest solution to getting materials in your hand is to order direct. We are here to help as always and looking forward to you needing plenty of materials.
-EFT Information- If a plan as a $0 premium  you should fill out an EFT form anyways, there could be unknown penalties. Premiums can also can change and if this happens it is better for them to have on file. When in doubt fill it out.
-Landscape and Benchmark files- information is powerful and having access to these can help you be knowledgeable in your market. If you need these or any other specific information, let us know.
-Review- This maybe the best advice to give.  After submitting check your application status for pending applications, corrections needed and denied applications. Especially if you are faxing, because faxes don't work 100% of the time, so save your fax confirmations. Don't have clients on January 1st with applications that never went through, that would be bad for business and they could be left with no coverage.
All of us at Eldercare are working full speed to give our agents the best of the best.
Watch our "Here For You This AEP" video, here.