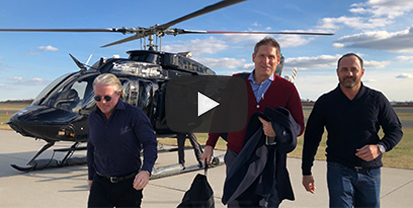 Eldercare Joins Integrity Marketing Group to Accelerate Impressive Growth
Integrity Marketing Group, today announced that it has acquired Eldercare Insurance Services, Inc., one of largest Senior Market insurance marketing organizations in the United States. As part of the deal, company owners Tony and John Bettis become owners in Integrity.
Take your business to the next level with Eldercare
With over 30 years in the industry, we are confident that we can help you take your business to the next level! Whether you are new to the business or a 20 year veteran, we are here to help. Take a moment to familiarize yourself with our exciting portfolio of carriers and products you will find that we only represent the best! Once you begin a relationship with Eldercare you will have access to nationwide quote engines, production reports, view company appointments, writing numbers in all states you are appointed just to name a few.
We offer customized lead programs, training from the best agents in the country, prospecting tools, contest incentives and much more. Our goal is not only to train you how to maximize your time doing what you do best, but also to build a relationship that last for many years to come. Our company is run by veteran agents that understand and respect what you need to be successful. You are not just a number to us! Call today and let us start working for you to ensure your continued success in the most booming industry in the country!
Cigna And Express Scripts Deal Completed

For those that don't already know Cigna has been acquiring Express Scripts to try and generate meaningful savings in medical and pharmacy costs for its members. The $54 billion acquisition completed December 20, 2018.

David Cordani, Cigna's president, said the combined company will try to promote affordable, personalized, whole person health care, and that it will try to close gaps in care in its local communities.

"All required regulatory approvals now have been received," Cigna said in the disclosure notice.

Cigna and Express Scripts announced their deal in March.

Cigna is based in Bloomfield, Connecticut, and now has about 74,000 employees. Express Scripts has been based in St. Louis.

Cigna noted in the "About Cigna" section of the press release announcing the deal closing that it has four operating subsidiaries with the word "insurance" in their names, and that it sells a variety of insurance products. The company did not mention health insurance or health plans anywhere else in the deal completion announcement. The announcement did not mention insurance agents or brokers.

Post AEP Survey Results and Analysis

How are you feeling about this AEP?

The average answer was 71, with 0 being awful and 100 being amazing. AEP can be really stressful especially due to the time crunch so we are happy that our agents averaged out at 71. We would of course love to see our agents feeling great about AEP they had and see a score of 100!

Was this your first AEP?

This was question was to show that their are still agents who have never participated in AEP and for them to see how many more agents are taking advantage of the opportunities AEP can offer.

Did you submit less, more or an exact amount of applications than planned?

These results were close but unfortunately 'less' was the majority. For our agents who took this survey even though the majority didn't submit as many as planned the next question shows that they still did more than last year. We love encouraging our agents to aim high and next year hope to see the majority as 'more'.

Did you do less, more or exact same business as last year?

This shows that more than half of our agents did more business than last year! Congratulations to those agents! For those agents that did less or same as last year, we will be in contact about how to do more next year.

How many applications did you submit this AEP?

We have agents with all sizes of business. Those that just do friends and family and those that have many downlines. With that said seeing that more than half of our agents submitted 6-30 applications this AEP is great! Good Job!

Was the majority of your business new or existing clients?

These results were only a difference of 16% but with the majority being 'new' clients shows that the senior market is a great business to be in.

What changes were most common for you?

For our agents the common change was joining, switching, or dropping a Prescription Drug plan. Then second to that was clients changing from one Medicare Advantage plan to another Medicare Advantage plan. With switching to Original Medicare being the least amount is a good sign for all agents in the senior market.

Did you utilize our updated AEP Resource Center?

It is unfortunate that only 25% of agents utilized our AEP Resource Center this AEP. To be sure all our agents aware of this great tool we will be creating more direct links for easier access.

We appreciate all the agents that participated in the survey and we have some great things already in the works for next year. Our goal here is to always provide the best service and help light the path to great success for all agents.