Eldercare Insurance Services Joins Integrity Marketing Group to Accelerate Impressive Growth
DALLAS — January 9, 2019 — Integrity Marketing Group, LLC ("Integrity"), the nation's largest independent distributor of life and health insurance products, today announced that it has acquired Eldercare Insurance Services, Inc. ("Eldercare or the Company"), one of largest Senior Market insurance marketing organizations ("IMO") in the United States. All of Eldercare's 60 employees will continue in their current roles at Eldercare's headquarters in Hot Springs, Arkansas. As part of the deal, company owners Tony and John Bettis become owners in Integrity. Financial terms of the private transaction were not disclosed.
Eldercare is highly respected as one of the nation's most successful distributors of Medicare Supplement and other Senior Market insurance products, leveraging a network of independent insurance agents, a career distribution sales force and an internal call center operation. In 2018, Eldercare placed over $60 million of annualized premiums and helped more than 40,000 Americans plan for their life and health insurance needs.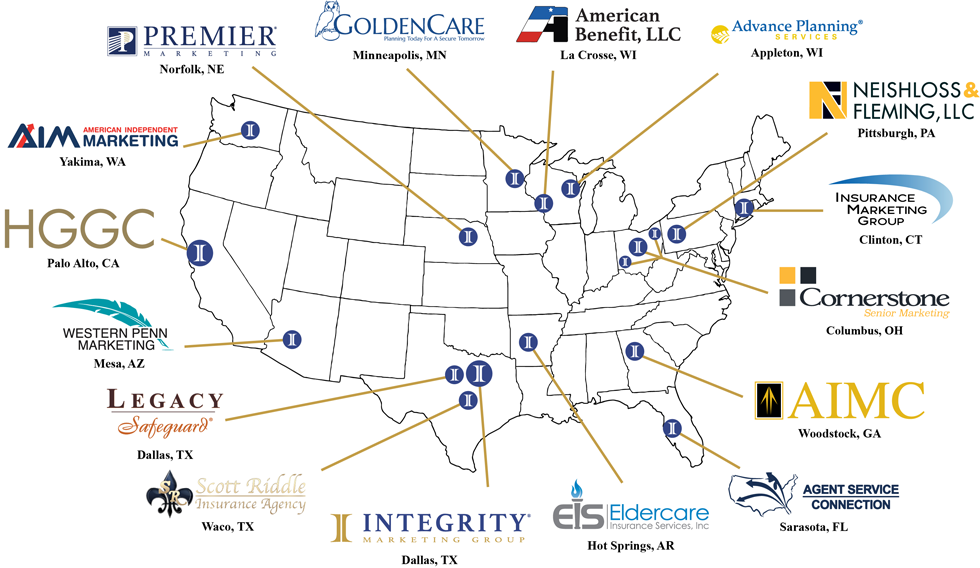 "I'm incredibly proud of what we have built at Eldercare, and this partnership with Integrity will help take us to the next level," said Tony Bettis, Founder of Eldercare. "Our growth under John's leadership has surpassed expectations and aligning with Integrity will help us grow even faster to help even more Americans."
"As someone who literally grew up in the business, I can see exactly how joining Integrity will take us to new heights through access to more products, agent services and other resources," said John Bettis, President of Eldercare. "There's no limit to what we can achieve together. Integrity's proven track record of unburdening agencies from the day-to-day distractions of running a business through their shared service platform will allow us to serve more agents and sell more products. I wish we had joined Integrity sooner."
"Everyone in our industry knows what a big deal this is for Integrity and the Senior Market," said Bryan W. Adams, Co-Founder & CEO of Integrity. "Eldercare's young, dynamic team has done an incredible job. The Company is growing at more than twice the rate of the overall market and we're confident we can help accelerate this impressive growth with the broad set of resources and best practices that are shared among all Integrity partners."
"Combining young and proven talent with a winning program allows everyone to achieve more than they could have on their own and we're excited to welcome Eldercare to the Integrity family." said Steve Young, Chairman of Integrity.
"Tony and John are two legends in the Medicare Supplement market and I'm incredibly honored to have them join Integrity. I could not have imagined a better start to 2019," said Mike White, Managing Partner at Integrity.
About Integrity Marketing Group
Integrity Marketing Group, headquartered in Dallas, Texas, is the nation's leading independent distributor of life and health insurance products focused on serving the Senior Market. Integrity develops and distributes life and health insurance products with insurance carrier partners and markets these products through its distribution network, which includes other large insurance agencies located throughout the country that has over 100,000 independent agents. Integrity serves almost three million clients with over 400 employees. To learn more about Integrity visit www.integritymarketing.com.
Partnership Inquiries:
Eric Pederson, Vice President of Business Development
Integrity Marketing Group, LLC
eric.pederson@integritymarketing.com
866-650-1857