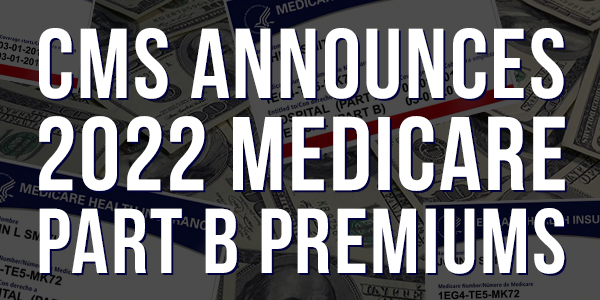 The 2022 Medicare Part B Standard Monthly Premium is $170.10.
The 2022 Medicare Part B Annual Deductible is $233.
Today, the Centers for Medicare & Medicaid Services (CMS) released the 2022 Medicare Parts A and B premiums, deductibles, and coinsurance amounts, and the 2022 Part D income-related monthly adjustment amounts. Most people with Medicare will see a 5.9 percent cost-of-living adjustment (COLA) in their 2022 Social Security benefits—the largest COLA in 30 years. This significant COLA increase will more than cover the increase in the Medicare Part B monthly premium.
The increase in the standard monthly premium for Part B—from $148.50 in 2021 to $170.10 in 2022—is based in part on the statutory requirement to prepare for expenses, such as spending trends driven by COVID-19, and prior Congressional action in the Continuing Appropriations Act, 2021 that limited the 2021 Medicare Part B monthly premium increase during the COVID-19 pandemic. It also reflects the need to maintain a contingency reserve for unanticipated increases in health care spending, particularly certain drug costs.
There is significant uncertainty regarding the potential for future coverage of clinician-administered Alzheimer's drugs (i.e., Aduhelm™), requiring additional contingency reserves. Potential Medicare drug coverage is currently the subject of a Medicare National Coverage Determination (NCD) analysis, which, if covered, could increase Medicare spending. The proposed NCD on Aduhelm (as well as any drugs in this category) is still to be determined.
Most people with Medicare will see a significant net increase in Social Security benefits. For example, a retired worker who currently receives $1,565 per month from Social Security can expect to receive a net increase of $70.40 more per month after the Medicare Part B premium is deducted.
By law, the Medicare Part B monthly premium must equal 25 percent of the estimated total Part B costs for enrollees age 65 and over. The annual Part B premium will adequately fund projected Medicare spending and maintain an adequate reserve in case actual costs are higher than estimated.
The annual deductible for Medicare Part B beneficiaries grows with the Part B financing and is increasing from $203 in 2021 to $233 in 2022.