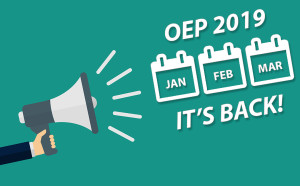 Agents rejoice, there is now an extra 3 month opportunity to sell Medicare Advantage plans beyond the 54-day Annual Enrollment Period!  Effective January 1st, 2019, the Open Enrollment Period (OEP) will make its way back to the market and provide clients the opportunity to make "like plan" changes to their Medicare healthcare coverage.
If you're enrolled in a Medicare Advantage plan, you'll have a one-time opportunity to:
Switch to a different Medicare Advantage plan

Drop your Medicare Advantage plan and return to Original Medicare, Part A and Part B

Sign up for a stand-alone Medicare Part D Prescription Drug Plan (if you return to Original Medicare). Most Medicare Advantage plans include prescription drug coverage already. Usually you can't enroll in a stand-alone Medicare Prescription Drug plan if you already have a Medicare Advantage plan, but there are some situations where you can. Call your Medicare Advantage plan if you have questions.

Drop your stand-alone Medicare Part D Prescription Drug Plan
Some of the veteran agents may remember the OEP before it was dissolved in 2011 and replaced by the Medicare Advantage Disenrollment Period (MADP). Now the Medicare Advantage Disenrollment Period (January 1 – February 14 every year) will be replaced with a new Medicare Advantage Open Enrollment Period will run from January 1 – March 31 every year.
Here's the synopsis of the OEP as it existed in the past and these details/rules are subject to change:
MAPD to MAPD

MAPD to Original Medicare and a Part D

MA Only plan to MA Only plan

MA Only plan to Original Medicare
Disclaimer: The Centers for Medicare and Medicaid Services (CMS) is still working through guidance on how the new election period will run, including marketing rules. This is not an extension of the AEP, which will still occur between October 15th and December 7th each year. The OEP does not provide the same flexibility as the AEP where clients can make any change they want.
The OEP will be a one-time use election period, so clients are limited to just one change during the 3 month window, and effective dates will be first of the following month after the client's signature date.  Clients returning to Original Medicare will have the opportunity to pick up a Medicare Supplement plan, but they will be subject to underwriting as the OEP does not provide a guarantee issue situation.
Barring any changes to the "like plan" guidelines, you can see there is a lot of opportunity to continue offering Medicare Advantage coverage during the OEP.  As CMS releases more guidance we will work to keep everyone updated.