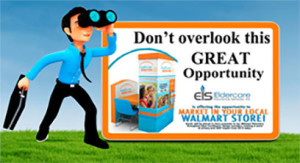 "Healthcare Begins Here" is Wal-Mart's in-store program that will staff 2,250 stores with independent insurance agents for both the Affordable Care Act and Medicare AEPs. This provides agents the opportunity to offer their services in a high-traffic, branded kiosk with additional marketing support and signage throughout the store.
Agents are required to be certified to sell at least two under 65 ACA carriers, as well as a minimum of three over 65 MA-MAPD carriers. The enrollment periods run concurrently between the dates of 10/1/2015 and 1/31/2016.
Additional requirements to participate are as follows:
Must be a top-performing, compliant agent

Spend a minimum of 20 hours in-store per week: 4 days; 5 hours per day

Standard time slots per day

$250.00 non-refundable, up-front store reservation fee with additional $250.00 due within three weeks

If additional $250.00 is not paid within the three week period, store will become available and initial deposit will be lost

Option to deposit full $500.00 up front to secure your store

Option to cost/time share with another agent, but both agents MUST meet all store minimum requirements
Store selections are already underway and will continue to run through May- contact us as soon as possible so we can reserve your store of choice. Stores are delegated on a first-come, first-serve basis along with the required deposit amounts. Agents will be required to attend registrations, carrier appointments, and store training meetings in preparation for the AEPs. Store training will include meetings with store managers and pharmacists to ensure consistent communication and information for customers. Don't miss this opportunity to join what Wal-Mart plans to make a yearly event in their stores to provide customers with the opportunity to purchase healthcare plans!