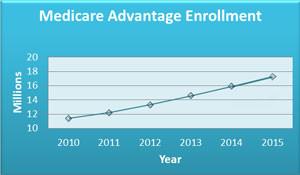 The uncertainty of payment rates to Medicare Advantage policy insurers has been a sore subject, but they were happy to learn on April 6th  that CMS announced they would be increasing their payment rates in 2016 by the largest percentage since the Affordable Care Act was passed. Average benchmark rates will go up by 1.25%, and contingent upon how health risks are coded for plans, an average of 3.25%.
These increases come after concerns were voiced that companies would reduce coverage availability and raise costs after CMS's proposal in February to cut payments by 0.95%. Contrary to fears, insurers have responded differently to rate uncertainties by keeping coverage and premiums the same; but raising out-of-pocket costs.
Regardless of  speculation, Medicare Advantage has shown a steady yearly increase in enrollment. Over 90% of seniors enrolling in Medicare Advantage plans are qualified for plans with no premium, and the average premium amount for seniors paying is right around $60.00. Also, almost all Medicare Advantage plans offer dental, vision, and hearing benefits included with their coverage. The low prices and benefit packages make these plans attractive to seniors with good health despite of the higher out-of-pocket costs.
We proudly offer both Medicare Advantage and Medigap policies in our portfolio of providers. Both options are able to accommodate your clients depending upon their needs, both physically and financially.