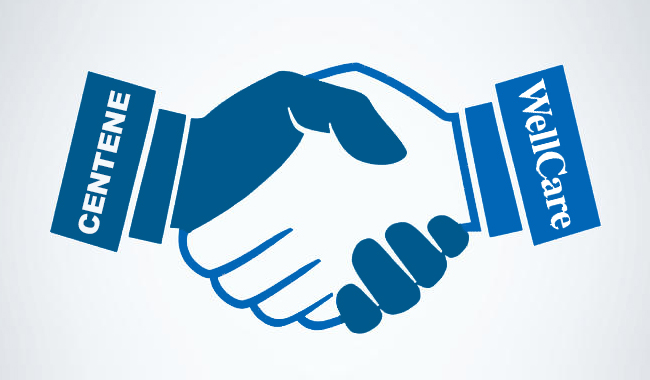 News From Centene:
"
We are pleased to announce that Centene has entered into a definitive agreement to acquire WellCare. The combination of our businesses will create a premier healthcare enterprise focused on government-sponsored healthcare programs and a leader in Medicaid, Medicare and the Health Insurance Marketplace.
Like us, WellCare believes that affordable and quality healthcare is best delivered locally. WellCare brings to Centene a high-quality Medicare platform, increases our exposure to government-sponsored healthcare solutions through its Medicare Advantage and Medicare Prescription Drug Plans, and further extends our robust Medicaid offerings. Headquartered in Tampa, Fla., WellCare serves more than 5.5 million members nationwide.
We don't just embrace the future, at Centene we take the lead to build on our competitive strengths and serve our government partners, providers and members. Some highlights about the combined company:
· We would serve approximately 22 million members across all 50 states, making us the leader in government-sponsored healthcare.
· We will be better positioned to serve members with increased scale and more comprehensive and differentiated solutions to meet their needs.
· We will benefit from leveraging Centene's growing position in the Health Insurance Marketplace to new markets.
· We will continue investing in technology and programs for the benefit of all stakeholders.
· We will continue to focus on leading the market with affordable, high-quality, culturally-sensitive healthcare services and enhancing our robust efforts to address the social determinants of health.
Planning for Integration
We expect to complete this transaction in the first half of 2020, subject to various closing conditions, including regulatory and shareholder approvals.
Both Centene and WellCare have proven track records in executing these kinds of strategic transactions. While this acquisition is in large part about growth and realizing the benefits of our enhanced scale, it will also be about using our combined strengths, especially in markets where we both operate.
Next Steps: Business as Usual
Importantly, until the closing of this transaction, Centene and WellCare will continue to operate as independent companies
"