AEP is not just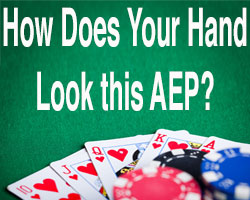 for Medicare Advantage and Prescription Drug Plans...  win this season with a Royal Flush and let Eldercare Insurance Services, Inc. deal your winning hand!  Stack your chips by giving your clients the variety they need- our carriers provide the best features for every product!
Issue Aged Premiums

Lowest Rates in States

Lifetime Commissions

Plans for Diabetics Taking Heart or High Blood Pressure Meds

No Commission Cuts on Applicants 80+

Limited Underwriting- Only Two Knock-Out Questions

Fully Commissionable Premiums

Household Discounts with only 1 taking the policy

Added Customer Programs
Call 800.777.9322 or email info@eisgroup.net to contract today!