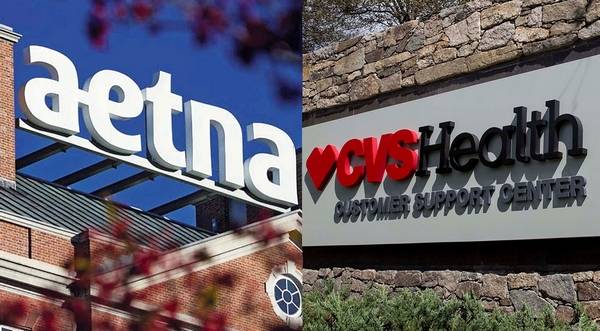 In a highly unusual move, a federal judge on Monday told pharmacy giant CVS Health Corp and the insurer Aetna that they can't start their consolidation and must keep their management separate until he weighs in on their $70 billion merger.
It isn't clear whether U.S. District Judge Richard Leon has any power to forestall the companies' integration.
A company spokesperson said, "CVS Health and Aetna are one company, and our focus is on transforming the consumer health experience."
In a brief court appearance where he did not permit the parties' attorneys to present arguments, Judge Leon announced he will hold another hearing Dec. 18. This gives CVS and Aetna until Dec. 14 to show him why they shouldn't hold off on their consolidation.
This comes just days after CVS and Aetna sealed their deal that raised early antitrust concerns while being touted as a potentially sweeping step to transform the U.S. healthcare system.
But even last week, Leon had signaled that he might hold up the merger's logistics. On Thursday he told the companies and the Justice Department that he didn't like what he called their "rubber-stamp approach" to his role.
The Justice Department in a status report filed over the weekend said Leon's role was limited to making sure the final settlement fixed the anti-trust violations that spurred the initial government lawsuit joined by state regulators.
"I didn't ask for a status report," Leon told federal attorneys.
He noted that the original complaint raised anti-competitive concerns and referred to the American Medical Associations "lengthy concerns as well."
Daniel McInnis, a longtime antitrust attorney with the firm Thompson Hine who observed Monday's proceedings, said the Justice Department didn't hedge on its position.
"It is always dangerous for a litigant to pick a fight with a federal judge, even for the government, but that is what happened here," McInnis said. "Not only does DOJ claim that the Tunney Act does not empower Judge Leon to on his own to halt the integration of CVS/Aetna, they further argue it would be constitutional violation by having a court infringe of the executive branch's exercise of prosecutorial power."
Big money is at stake in any delay, he added.
"They have no doubt spent a tremendous amount of time and planning to combine the companies and begin to implement their new business strategies," McInnis said. " There is also just the question of cost savings. At one point, CVS has claimed the deal will deliver around $750 million in near-term synergies in the second full year after close. Both the new strategies and any cost savings could be put on hold for another six months or more."
Courts have to oversee Justice Department settlements in cases like these to make sure they are in the public interest and not the result of sweetheart deals with the administration in power. While the role was largely treated as a "rubber stamp," Congress in 2004 amended federal law to strengthen the judiciary's oversight of the executive branch's anti-trust consent decrees.
The Justice Department and the five states that sued to stop the deal have all now signed off on it.
In October, the Justice Department said the merger could ahead long as Aetna offload its Medicare Part D prescription drug plan business to WellCare Health Plans to avert pharmacy conflict of interest. Opposing state regulators have also given their nod of approval with conditions.
A spokesperson for the DOJ declined to comment further on Judge Leon's position, referring instead to the arguments laid out in the department's status update for the court.
If you are interested in contracting with Aetna or Silverscript please contact us.