Results from a recent study conducted by Kaiser Family Foundation show that Arkansas's 'Private Option' program has reduced the state's uninsured rate by nearly half, while also dropping uncompensated care costs by 55%.  Arkansas was the fi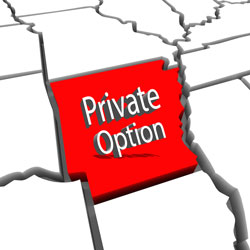 rst state in the nation to establish the program, which provides individuals who are newly eligible for Medicaid the opportunity to enroll in private insurance plans offered by the federal Marketplace with the federal government bearing either all or some of the premium and copay costs.
ACA enrollment in the state tripled due to this program which allowed for competition among insurers and reduced premiums.  Arkansas's political leaders have acknowledged that the program will remain in effect for 2016 and will be evaluated by a task force to address it's complexities and imperfections.