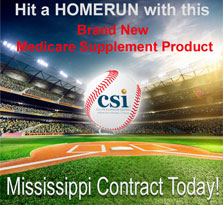 Hit it out of the park with this brand new medicare supplement product!
Top commissions

Average 4 day app turnaround time

Full commission on all ages!

App status email alerts

Online E-app for your application submissions

A member of the Berkshire Hathaway family of companies

A.M. Best Rating A+ (Excellent)

Rates are banded ages 65-70!
Click Here or Call 800.777.9322 to Contract Today!